I went to an antique store this morning. I had such a burst of creative inspiration about five days ago and rushed to the store to see if they had what I wanted, but it has been closed for five days! I was so disappointed... but I was very happy to see that it was finally opened again today.
There were lots of great things. But nothing for me. They did have what I wanted, but it was too large. I looked at their antique chairs and they all seemed nice, but out of my price range. Who knows, maybe the prices were just right and I am too cheap?
So, feeling discouraged I went to a small thrift store. It is run by volunteers and all proceeds go to the local library. They sell mainly clothes, books, and some household items. Things are priced very, very reasonably. I find that some of the more mainsteam second hand stores have prices that rival retail at times. I was excited to find that children's books were $0.25 each at this place!
Here are my finds:
I got these clothes for the boy. They are some of my favourite brands (Joe Fresh, Pekkle, Gap Kids) and I got all four for $4.
I picked through the books carefully. I got two old, worn copies of classic novels. I have some plans for these. And I found a cute book for my son. $ 0.75 for all three.
My favourite find was this clutch for $0.50. I know nothing about purses, and there are no tags, but it looks vintage to me. I think it is really pretty.
Grand total = $5.25
I have lots of baby clothes I am going to donate back to the store. It's for a good cause :)
Today I am linking to: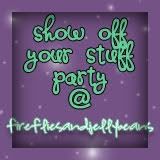 And ...
Frugalicious Friday
And ...
Thrift Treasures Party